writer of A Group-Analytic Exploration of the Sibling Matrix and contributor to journals including The International Journal of Group-Analytic Psychotherapy.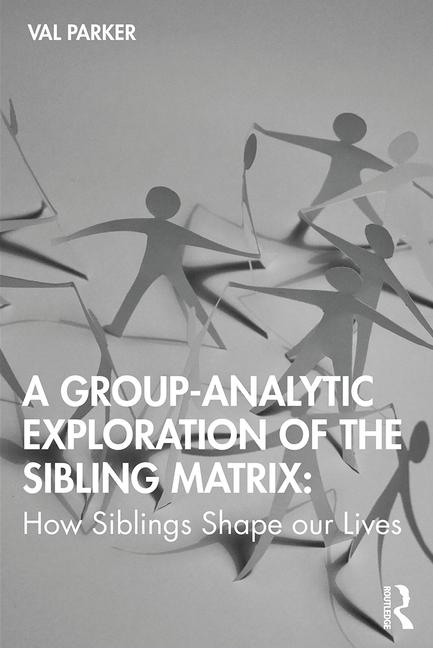 A Group-Analytic Exploration of the Sibling Matrix: How Siblings Shape our Lives
A fresh approach to siblings, recognising how these relationships are embedded in the framework of the family and how sibling experiences shape our lives, influencing relationships with partners, friends and colleagues, and affecting how we take our place in groups and in society.
The book is divided into three parts. Part One focuses on the sibling life cycle, exploring how these relationships shift and change throughout life according to context and circumstances. In Part Two, Parker uses clinical examples to consider how therapists working with individuals and groups might expand their thinking to incorporate the sibling matrix. The final part investigates how the sibling matrix manifests in organisational life and considers how we might develop mutuality and cooperation in our universal sibling matrix.
The book incorporates compelling personal stories and clinical examples to bring to life the realities and nuances, the good and bad, the healthy and supportive, and also the potentially damaging aspects of sibling relationships. 
'This is an important contribution to our thinking about sibling relationships, clearly and engagingly written, succinct and persuasive. I hope along with Parker that it will spark more reflection and writing about this important topic.'
Christine Thornton Group Analysis 2020, 53:4
'This is a book for all those who are becoming increasingly aware that the need to co-operate with others is essential for our survival.'
Prophecy Coles, Psychotherapist and author
'I wholeheartedly recommend this book to all clinicians wanting to deepen their understanding of family dynamics.'
Sylvia Hutchinson, Group Analyst
Over the past 20 years I have contributed articles to many journals and publications. These include the following:
An exploration of the concept of the social unconscious and its application to clinical understanding
Group Analysis 2014 47:1, 30-41
The social unconscious is an idea primarily linked to group analysis. This article argues that the unconscious is socially constructed and it is essential that we recognize the power of social forces on our psyche. While Freud's concept of the super-ego implies the existence of a socially constructed aspect of the unconscious, I propose that if the unconscious is inherently social then the anxieties we experience and defend against are based on our need to belong rather than our fear of annihilation. Tracing these ideas through three individual case examples, I demonstrate that the cultural and societal roots of the unconscious are crucial to our understanding of the workings of individuals and of the groups to which they belong.
My experience of facilitating a Balint group and its interface with supervision
Journal of the Balint Society Vol. 37 2009 pp37-42
A counsellor's personal reflection on facilitating a 'Balint group' for GPs
Psychodynamic Practice, 2010 16:1 pp79-88
The individual is an 'artificial, though plausible, abstraction' (Foulkes, 1948): The relevance of Foulkes's group-analytic ideas in our world today
The Social Unconscious in Persons, Groups and Societies: Volume 3: The Foundation Matrix Extended and Re-configured
Developing Nuclear Ideas: Relational Group Psychotherapy
Psychoanalysis with Wilfred R. Bion: contemporary approaches, actuality and the future of psychoanalytic practice